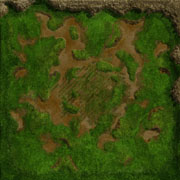 Kyousaku(Bad Harvest)
A map by Cydonian

It's harvest time in thefields, and peasant farmers bustle about to fill their baskets with ricefor the Daimyo. The map features a flat center area, ringed by hillsand muddy puddles. Ball games are prominent here, as there is plentyof open space to push them around in.

"Kyousaku" is a third-partymap plug-in for Myth II: Soulblighter. Copyright 1998 in wholeor in part by Bungie Software Products Corporation. Createdwith Fear and Loathing by Cydonian (cydonian@mail.com). Color map, mesh, and farmers by Cydonian. Fruit trees by the Pope. Rice farmer scripting by Reddek. Map concept by Tom Servo. This plug-in is meant to be distributed and used free-of-charge by ownersof the Myth II: Soulblighter game.
KyousakuFFA (8 starting locations)

Game types:BC,STB, LMOTH, BOP, Captures, King of the Ball, Stampede, Assassin

Units: WarriorMonks (8/12), Foot Bowmen (4/6), Samurai Swordsmen (4/6),RocketMortars (1/1), Elementalists (1/2), Tengu (1 nt),Oni(1/2), Bowman Hero (1 - assassin target), Noblemen (8 - stampedeunits nt).

*nt denotes the unit typeis not tradable here
KyousakuTeams (2 starting locations)

Game types:BC, STB, LMOTH, CTF, BOP, Terries, Captures, King of the Ball, Stampede,Assassin

Units:Spearmen(20/32),WarriorMonks (8/12),Ronin (10/16),Foot Bowmen (10/16),SamuraiSwordsmen (8/12), Rocket Mortars (0/2), Elementalists(1/2), Tengu (2 nt), Oni (1/3),Noblemen (8 - stampedeunits and assassin targets).

*nt denotes the unit typeis not tradable here